Managed Detection and Response
Every day, thousands of endpoints are compromised by cybercriminals, as these remain the easiest entry for hackers to gain access to your corporate data.
The reality is that traditional antivirus solutions are not able to detect and protect against the current sophisticated threats. Legacy antiviruses only compare the signature of files to a database of known malicious files. Therefore, any new strain of virus will strike hard before it is recognized, analyzed and then passed on to all antivirus vendors for blocking.
An EDR solution is based on agents installed on all terminals. Present uses a platform with unique malware detection and quarantine technology. This solution integrates the most innovative prevention in the industry, providing visibility into the root causes and origins of the threat, making it possible to block and above all, reverse operations.
Our technology detects thousands of viruses and malware variants including crypto mining attacks, no matter where your endpoints are deployed (office, home, airport, cafe, hotel, etc.).
The EDR solution is managed externally by our SOC (Security Operations Center) who are monitoring, analyzing and responding to your alerts 24/7. When suspicious behavior is detected, it generates an alert that the SOC team analyzes and manages for you. When malicious behavior is detected with certainty, the software immediately blocks the file or action in question before it can spread.
This affordable solution, with a monthly pay-as-you-go billing model, will ensure the highest possible standard of endpoint protection which is vital to keeping your organization's data safe.
Concentrate on your business, with peace of mind
Do not let security breaches put your company at risk, or slow you down, use Present's IT Managed Security services to mitigate the vulnerabilities of your environment. We have a solid and comprehensive expertise in IT security.
We rely on tested and proven processes and best practices. We provide our customers with the knowledge to reduce their attack surface, as well as the services to detect and stop security breaches before it's too late.
Why you need an EDR combined with our SOC?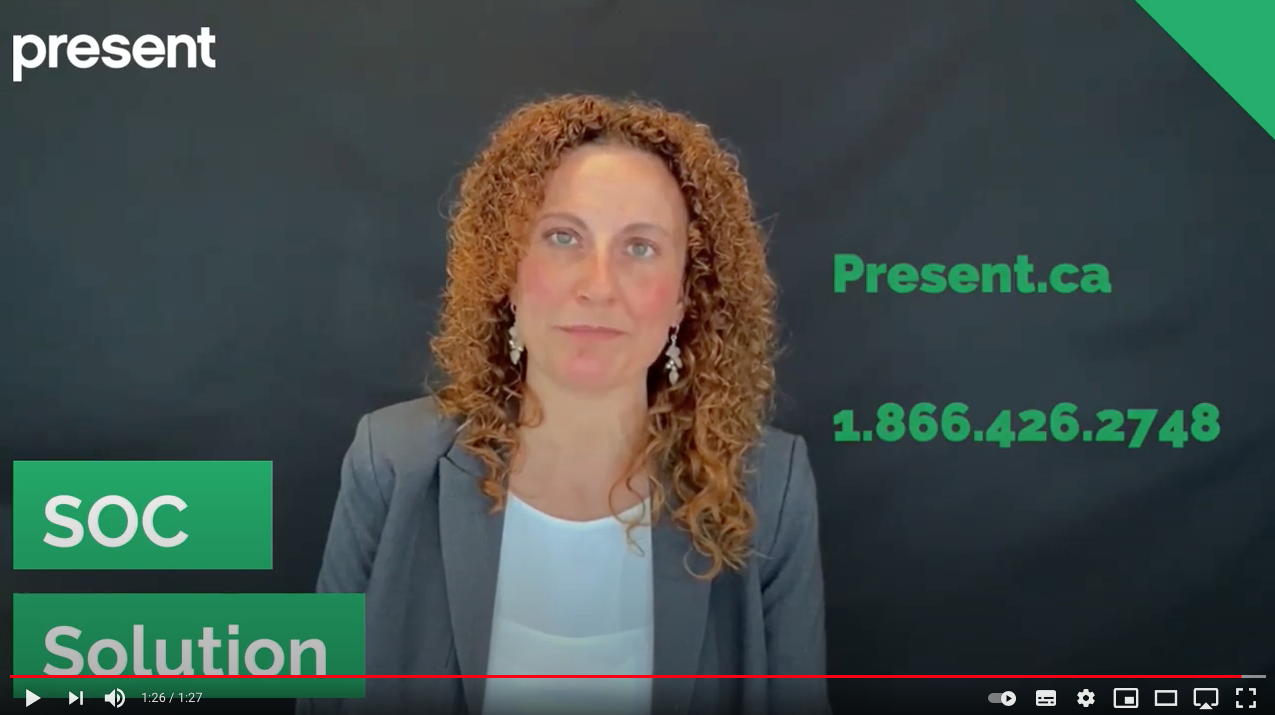 GET A QUOTE NOW
Fill in the form below to receive a quote within 24 hours. Find out how to ensure the highest possible standard of endpoint protection for an affordable monthly fee.
Present's Security Operation Center (SOC)
Threat Detection
Our solution recognizes immediately thousands of viruses and malware attack variants, including cryptomining attacks, as well as the root causes of these malicious behaviors, by quickly identifying and diagnosing corrupt source processes and system settings.
Our SOC analyzes quarantined applications and files, reducing false positives and ensuring comprehensive protection. We take care of the challenges of cybersecurity while you focus on your business.
Response and Remediation
When malicious behaviour is detected, our endpoint security solution will quickly rollback files to previous safe versions through tracking changes in your devices and restoring them to an acceptable risk state.
Next-Generation Endpoint Security
Our endpoint security solution utilizes the patented SentinelOne platform for its unique malware detection and remediation technology. This solution incorporates the industry's most innovative prevention, providing visibility into the root causes and origins of the threat, reversing the malicious operations and remediating them at an agile speed as needed.
On-demand security operations
We provide a security operations center (SOC) that scales protection with your business, providing the staff necessary to drive threat remediation.
Always-available threat coverage
Our technology detects all known and unknown threats leveraging the latest behavior-based (AI) technology, regardless of where your endpoints are deployed (office, home, airport, café, hotel, etc.).
Next-gen threat detection and remediation
Our solution incorporates patented threat identification and remediation technology, to fully protect desktop and server environments for Windows, Mac and Linux, as well as virtualized servers in AWS & Azure, VMWare, Citrix, VirtualBox, and Hyper-V.